Provide outstanding
customer service


while keeping your

cost to serve low
The move towards electrification is putting significant strain on the grid, emerging as a major cost factor for electric utilities. The adoption of strategies such as advanced time-of-use, real-time pricing, and load monitoring, has become more important than ever. At the same time, you want to provide outstanding customer service
and increase your customer contribution margin.

A modern and future-proof CIS & CRM solution paired with robust data intelligence tools like Itineris' UMAX, can help you navigate these challenges.
Introduce flexible product offerings
As the energy landscape evolves with electric vehicles and renewable production, utilities should adapt their offerings to meet their customers' changing needs.
Our solutions empower you to make the shift towards the 'Energy as a Service' model, enabling your customers to become Prosumers. This transition not only allows you to implement and promote energy efficiency programs, but it also unlocks new revenue opportunities. Consider scenarios such as customers exporting energy through their EVs, the adoption of dynamic energy contracts, or the introduction of leasing solutions for solar panels, complete with installation and maintenance options.
Transform your customer service
A modern CIS & CRM solution allows you to:
Establish a

Next-Generation self-service portal

that not only provides your customers access to their contact details and bills but also empowers them to manage payment plans, monitor energy consumption, and more.

Utilize chatbots and AI-powered FAQs to provide swift and efficient customer service, even beyond regular business hours.
Identify and track vulnerable customers to provide targeted assistance.
Grant your CSRs access to a comprehensive 360° customer view for enhanced and personalized support.
This empowers you to boost your sales effectiveness, promptly resolve billing issues, identify vulnerable customers, and provide real-time energy consumption information, all elevating the overall customer experience.
Remove data silos
Seamlessly collect, aggregate, and integrate real-time data from various sources. This includes data from smart meters, SCADA and IoT sensor data, and more.
Through automated alerts and notifications, you can proactively identify irregularities or trends in data. This data-driven approach supports timely decision-making, which is critical for responding to issues such as power outages, equipment failures, or fluctuations in energy demand. This results in an enhanced operational efficiency.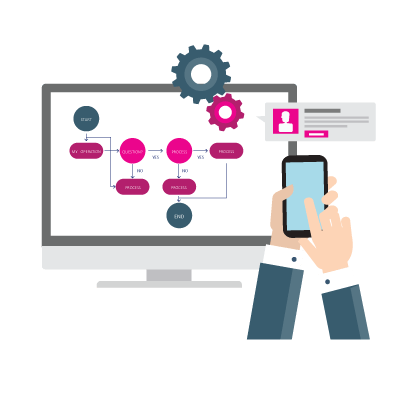 Reporting made easy
In a heavily regulated industry, adhering to regulatory requirements is paramount.
This includes meeting environmental standards, energy efficiency targets, and consumer protection regulations.
With our solutions, you can automate these processes, allowing for real-time monitoring to ensure compliant reporting.
Adhere to the highest security standards
Today's management focus is on "connectivity first" and cybersecurity.
Our solutions run on Microsoft Azure, the industry-leading cloud platform, which adheres to the most rigorous security and compliance standards globally. This ensures stability, security, and constant accessibility for uninterrupted utility operations.
Discover our
utility solutions
Our cloud-based solutions are specifically designed to meet your needs as a utility company. We provide you with modern SaaS solutions that help automate your business processes and enhance the experience of your customers.
Our UMAX solutions are built on and are fully integrated with the Microsoft Dynamics 365 platform.
Learn how the road to Net Zero not only aligns with global environmental goals but also presents a unique opportunity for you to strengthen your market position.
Learn how utilities can empower their customers to adapt their consumption patterns. Discover 4 effective strategies for implementing dynamic contracts.
We will support PZEM in modernizing its Customer Service and Operations and in realizing its customer win-back strategy.