Easing multi-jurisdiction and currency challenges
Trade across multiple countries most likely means trade in multiple currencies and dealing with multiple regulatory bodies. Managing your business across different regions that each have their specific challenges may lead to frustrating errors affecting both your utility and your customers. To prevent these mistakes from happening, the Itineris customer information system, UMAX, is designed to efficiently handle multiple companies, currencies, and countries of service. This flexible solution offers a wide range of features.
As an example, for the Republic of Ireland and Northern Irish markets, our multi-currency functionality natively integrated in UMAX, is designed to efficiently handle multiple companies, currencies, and countries of service. This flexible solution offers a wide range of features.
Multi-company, multi-currency

We live in a globalized economy where a single company may have multiple legal entities. With UMAX, cross-company data sharing makes fluent communication between different entities easy. When data is confidential for a specific subsidiary, the data access is limited to the operating company in charge.

In a hyper-connected world, trade across multiple countries will likely mean trade in other currencies. Multi-currency functionality, which is natively integrated in UMAX, provides a perfect solution for numerous scenarios. For the Republic of Ireland and Northern Irish markets, this means the use of both Euros and British pounds is possible.

Perhaps your accounting currency differs from your reporting currency — a typical situation in multi-national companies. Or maybe your organization has multiple legal entities and transactions, so the base reporting currency is not the only currency utilized. The multi-currency functionality of UMAX also proves helpful when matching exchange rates, enabling the setup of multiple currency conversions. UMAX is the ideal solution if you are doing business in multiple countries.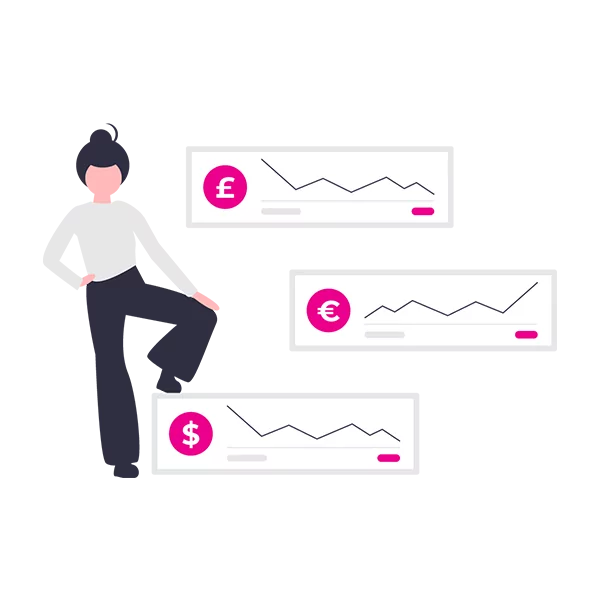 Integration with Exchange rate providers

Our solution offers the possibility to work with Exchange rate providers to have the latest published exchange rates incorporated in the prices. Additionally, for instance, as part of your period-end, you may need to revalue your general ledger account balances in foreign currencies using different exchange rate types (current, historical, average, etc.). For example, one accounting convention requires assets and liabilities to be revalued at the current exchange rate, fixed assets at the historical exchange rate, and profit and loss accounts at the monthly average. Our general ledger foreign currency revaluation can be used to meet this requirement.

Itineris' UMAX has been designed to handle processes within different legal entities located in multiple countries and execute transactions in different currencies. It also includes all processes required for compliance in the Republic of Ireland and Northern Irish markets, such as region-specific market interaction and payment and collection processes.
Market interaction

UMAX provides an evergreen market compliant solution for the Irish and Northern Irish markets to manage incoming and outgoing market messages.

Multiple messages are combined in logical, fully automated processes called scenarios. These scenarios also cover the communication with the Gas Network Ireland (GNI), ROI Gas – Siemens (Prepayment), Northern Ireland Electricity Networks (NIE) and ESB Retail Market Design Service (RMDS).

The progression of different market scenarios and exceptions can be monitored easily in UMAX via the strong work management framework. When limited or no user interaction is necessary, UMAX processes the scenario automatically.

In cases where the scenario asks for user interaction, the user can:

Look into the status (action) history of the scenario.
Add or view industry information related to the scenario.
Filter the scenario by the presence of certain scenario relations (e.g., all scenarios that are linked to a certain service, agreement, etc.), or values.
Create his/her own advanced filter on certain values, to check how many values are open/received, or to check up on exceptions.
Delete old data. Note that this function is only available to a select set of users with a specific security role.
Payments and collections

There are many interesting features within the payments and collection area, including prepayment meters (PPM) and budget direct debit, offered to customers that typically have trouble paying their utility bills and/or have large outstanding debts.

The PPM needs to be 'topped-up' before your customer can consume energy. Outstanding debts can be recovered as a percentage of the top-up amount. The PPM can be topped up by using a card on a mobile application or via phone call. If your customer runs out of credit, they are allowed some emergency credit to be repaid with the next top-up. When all credit (including emergency) is used, energy supply is cut off. Refund of credit (e.g., when your customer moves out) is possible upon request.
Budget direct debit

Your customer can choose to pay via a budget plan, e.g., a (jointly agreed) fixed amount on a fixed time or frequency, via direct debit, where UMAX calculates the amount based on the estimated yearly consumption, with the possibility to recalculate periodically to best reflect the actual charges. This allows you to offer a predictable energy cost for your customer, steadying the potentially higher invoices in winter with a lower cost during summer.

Next to a fixed amount, your customer can also choose to pay for his/her (variable) invoices via a regular direct debit payment, either in full or split up into smaller instalments by means of a payment plan offered. As you can see, lots of options in accommodating to the payment needs of your customers.
UK energy suppliers must manage many regulatory obligations and industry standards, including MHHS. Learn how our software can help you navigate these.
Itineris' new intelligent billing solution CleverCollect provides vital intelligence to move from a one-size-fits-all e-bill enrollment and dunning strategy toward a more effective, personalized approach to customer payment journeys.
To optimize water conservation initiatives, utilities are streamlining their processes and implementing automated insights. Learn how your utility customers can become real water conservation heroes.