Itineris joins The Pink March to raise awareness about breast cancer
Our company joined 'De Roze Mars', a campaign to raise awareness about breast cancer. Together with 27 enthusiastic colleagues, we committed to taking at least 10,000 steps a day during the entire month of May.
It was a blast!
Our team finished 27th with 10300726 steps, that's 7240 kilometers!  And, even more importantly, they got inspired to adopt and continue a healthy lifestyle.
Overall, De Roze Mars was a great success: a total of 31,622 enthusiasts took on the fight against breast cancer, and together they walked around the world more than 135 times in just 31 days.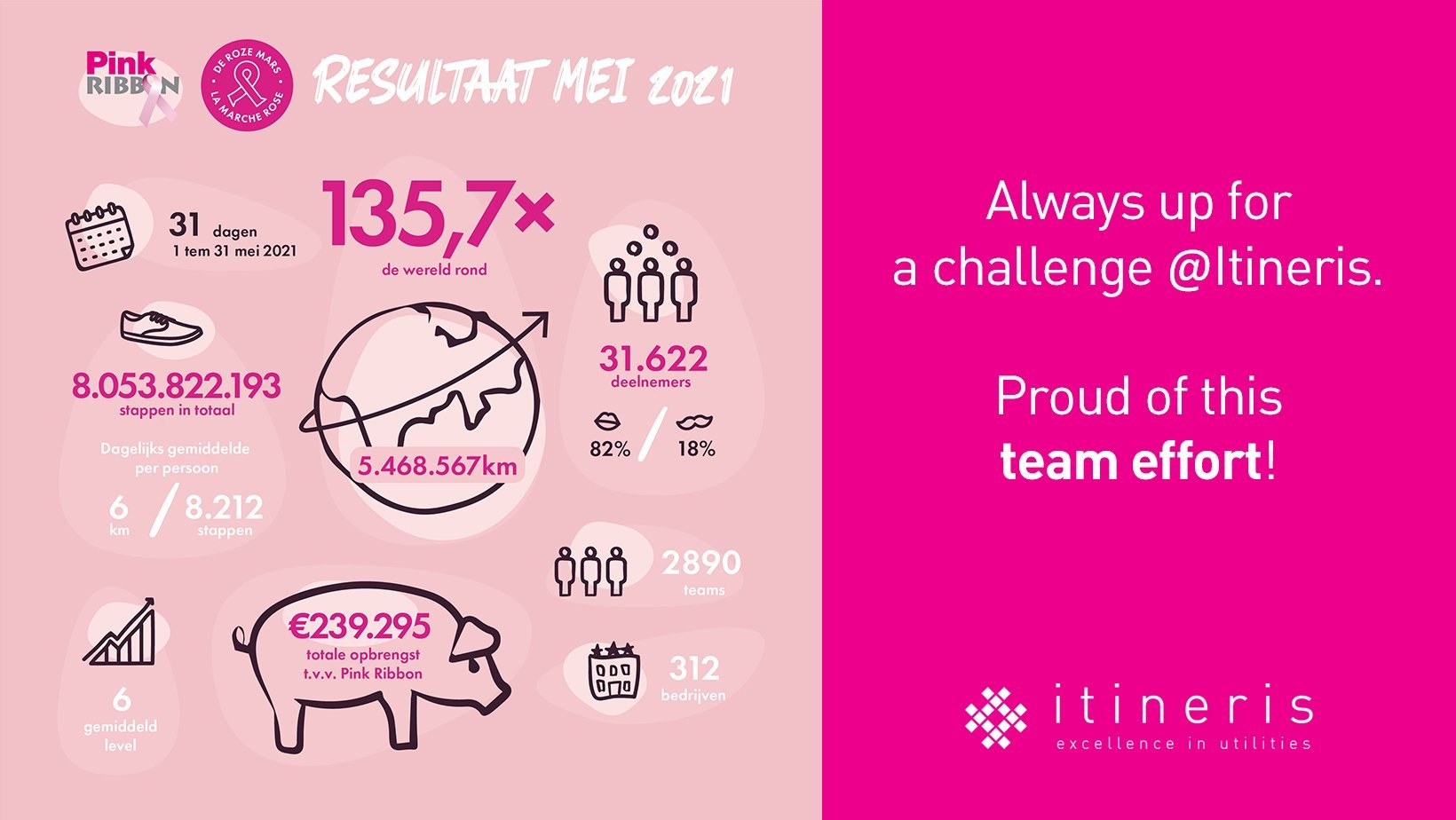 Kudos to all colleagues that joined this initiative.
And now: up to the next challenge! ?
We are grateful and proud to have achieved the prestigious Microsoft Business Applications 2021/2022 Inner Circle award for the second year running. Membership in this elite group is based on sales achievements that rank Itineris in the top 1% of the Microsoft's Business Applications global network of partners.
Itineris announced today the successful integration of UMAX, our modern, highly configurable CIS & CRM solution, to the ONLINE Utility Exchange, a premier bad-debt elimination tool. This integration was developed in conjunction with Lansing Board of Water and Light (LBWL) and will allow UMAX users to eliminate bad debt during the application process.
We are pleased to announce that Itineris has successfully implemented our cloud-based Customer Information Solution, UMAX, at The Lansing Board of Water & Light (BWL). The implementation was successfully delivered on-time, and on-budget.